Anglican:  St Eadburga
Built 1881-2 by W J Hopkins for William Laslett of Abberton Hall. It replaced an earlier medieval structure.  The spire was removed in 1962 as it was in the flight path of Pershore Airfield. The airfield has since closed and it was originally agreed that the spire would be rebuilt. However this was found to be structually impossible and a sum of money equivalent to the cost was donated to the church by the MoD.  Known as the Abberton Spire Fund, this money is used for the upkeep of the fabric of this and several other local churches.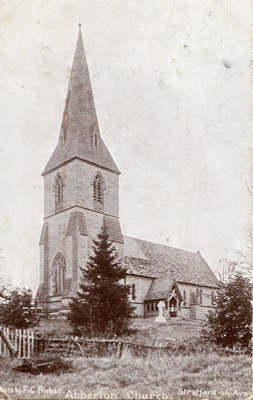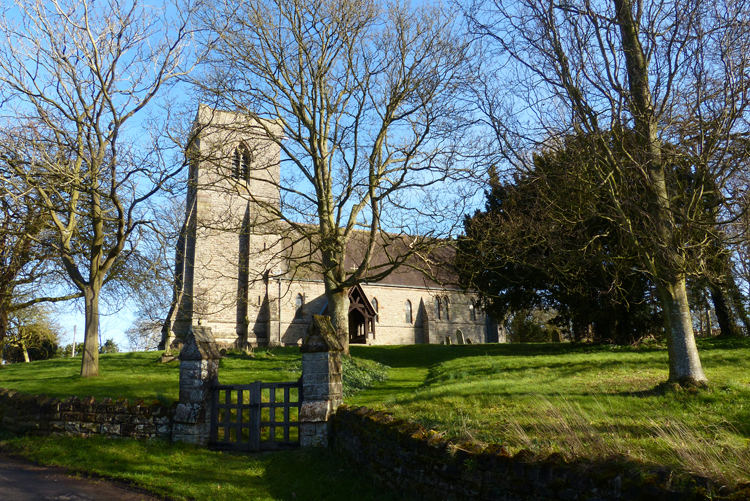 St Eadburga c1905.                                        St Eadburga February 2014.
                            Click here for other (2014) recent pictures.     (www.flickr.com/tudorbarlow)
References and some further sources:
Aiken, John. Census of Religious Worship, 1851: The Returns for Worcestershire
Bridges, Tim. Churches of Worcestershire (2005)
Brooks, Alan, and Nikolaus Pevsner. Buildings of England:Worcestershire (2007)
Morgan, Paul. Inspections of churches and parsonage houses in the Diocese of Worcester in 1674, 1676, 1684, and 1687 (1986)
Noake, John. The Rambler in Worcestershire or, Stray Notes on Churches and Congregations. Volume II: (1851)
Noake, John. Worcester Sects  (1861)
Ransome, Mary. The State of the Bishopric of Worcester, 1782-1808 (1968)
n.b. For full references of the above please click here
Websites:        British History Online:   www.british-history.ac.uk
                          Grade II Listed building: Click here for Listing Details
                          Historic England list for England: click here
                          The Flyfords Family Parish Website
                          A Church Near You
                          Family History Website
You can see more of the work of W J Hopkins in Worcestershire Churches here.
Other nearby churches are:  Bishampton,  Flyford Flavell,  Grafton Flyford,  Inkberrow,     Naunton Beauchamp,  North Piddle,  Pershore,  Throckmorton.
                       
Click on red text for a link (external website links open in a new window).               Page updated March 2016.

---